News
The Donor Car
Exterior Parts
Interior Parts
Conversion Diary
Galleries
The Original
Original vs. Replica
FAQ
Press, radio & TV
Meetings & Events
K.I.T.T. and the stars
K.I.T.T. and movie cars
K.I.T.T. in Erfurt
K.I.T.T. Photo Magic
Setbacks
Special Thanks
About Me
Contact
Guestbook
Board (German)
myKITT at Facebook
myKITT at Instagram
Parts for sale

5,290 people like
myKITT.de on Facebook!

» Be part of them
and keep updated!
| | |
| --- | --- |
| Exterior: | 100% |
| Interior: | 100% |
| Other stuff: | 90% |


My K.I.T.T. with David Hasselhoff at ZDF-Fernsehgarten 2019
Click on a thumbnail to see the picture in full size:
To have the gallery function work, wait until the whole site has been loaded, including all Thumbnails...
Video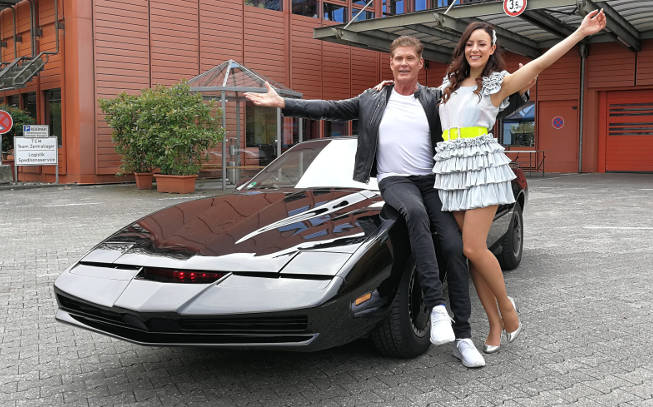 Trip and rehearsals (13.07.2019)
On 29.08.2010 David Hasselhoff drove live with my K.I.T.T. into the "ZDF-Fernsehgarten".
At that time I couldn't be there personally, because I was on my honeymoon in the USA.
Almost 9 years later I got another call from German TV channel ZDF that David would be back at the Fernsehgarten (TV garden) on 14.07.2019 and if I had time to make my K.I.T.T. replica available for his performance. Of course I said yes.
I arrived on 13.07.2019 for rehearsal. I should be there at 11:00, so that at 12:00 a first rehearsal with K.I.T.T. could take place. In addition they wanted to film the voicebox before, in order to be able to show it later and in the late afternoon also the rehearsal of the entire show should take place. Most of the star guests (incl. David Hasselhoff), however, were not there yet.
I myself brought 2 friends to support me: Tommy, whom I had promised for a long time to take him with me to an event like this, and Daniel, who lives not far from the TV garden and had already made photos and videos for me in 2010. I took Tommy with me from home, we met Daniel on site.
On site I first removed the license plates and replaced the round steering wheel with the gullwing. Then we drove to the backstage area, where we got our passes and a short briefing. I also studied the guest list and was happy that besides David Hasselhoff also 90's pop singer Blümchen aka Blossom would be guest as well. She was not yet included in all previous announcements.
When driving into the backstage area, Schlager icon Patrick Lindner already crossed our path. He seemed to be impressed by K.I.T.T. and turned around astonished after the car - unfortunately we didn't meet him again that day, because he had to go to Offenburg afterwards, where he performed at the TV show "Willkommen bei Carmen Nebel" in the evening. David Hasselhoff, Blümchen and Lou Bega were also guests there, who were also expected in the Fernsehgarten on Sunday.
As we still had some time until the first rehearsal around 12:00, we went to the main stage and watched the camera rehearsals for the music acts. Since most of the stars weren't there yet, they were represented by so-called light doubles, who moved to the music, so that the cameramen could rehearse for the show.
Shortly before 12:00 I drove K.I.T.T. to the access road of the main stage area. Then we walked down the path to check if the path is wide enough everywhere. Two tables had to be moved slightly, but otherwise it should fit.
The waiting time was shortened for us by many fans of K.I.T.T. as well as Monty, the small Capuchin monkey of TV animal trainer Nicolle Müller, who also had an appearance in the TV garden at a snail race.
At the rehersal, I took over David's role, whereby it was mainly discussed that I would drive the car off the stage and when K.I.T.T. was expected to say something. Just in time for the entrance it started to rain, which didn't bother us any more. But the remaining rehearsals had to be interrupted every now and then.
After the rehearsal we waited for the camera team to record K.I.T.T.'s voicebox. Since the weather was very changeable, the rehearsal procedure was changed again and again, so we had some time now.
In the meantime the band "Frontm3n" came by at K.I.T.T. - 3 British musicians, who were previously active with the Hollies (Peter Howarth), 10cc (Mick Wilson) and The Sweet (Pete Lincoln).
Also numerous old Citroën 2CV came to the site, including a "Polente", as I knew from the German TV series "Hals über Kopf" from the 80s. The vehicles were positioned at the entrance to the main stage due to the French motto of our edition of the Fernsehgarten.
After the camera recordings with K.I.T.T. we also met Kiki Cordalis (daughter of famous singer Costa Cordalis, sister of Lucas Cordalis) in the backstage area, who presented her new single in the show.
While we waited for the rehearsal, the weather was still playing "April". Sunshine and pouring rain alternated.
In the late afternoon the main rehearsal began, during which the show was rehearsed once completely. The host Andrea Kiewel was also present. We ourselves mingled with the "audience".
After about 50 minutes it was K.I.T.T.'s turn. Since David Hasselhoff was not present yet, I drove the car on stage again. Our guest manager mimed David on stage, so that I could stay in the car this time. Andrea Kiewel was not there anymore and let a colleague do her part.
Unfortunately it showed up again that K.I.T.T. is still a more than 30 years old vehicle. The car started jerking immediately after starting the engine and went off again. Several times. Great... My first suspicion was that it was out of gas (the corresponding display is unfortunately very unreliable), therefore I filled from my spare canister, which I always have with me, accordingly after and the car was running again, so that the rehearsal could still take place successfully. But after the ride it started to jerk off the stage again. A look under the hood quickly revealed the "culprit": The cover of the air intake had come loose. That could be repaired fast with some tape. Thank God this had happened during the rehearsal and not during the actual broadcast, when Hasselhoff should be at the wheel 🙈
.
We followed the rest of the rehearsal as spectators. Beside Kiki Cordalis and the Frontm3n in person they used the already known light doubles again for the remaining music guests.
After the rehearsal, the vehicles were stowed in a garage in the fundus. We met TV animal trainer Nicolle Müller and her monkey Monty before we drove with Daniel to our hotel and ended the evening in a local pub. In the evening at the hotel we watched the end of "Welcome to Carmen Nebel", where we got a foretaste of David Hasselhoff and Blümchen's performance the following day.
The show (14.07.2019)
On Sunday the ZDF shuttle should pick us up at the hotel at 10:00 AM. But we were already awake around 6:30 AM, so that we had no problem when at 7:40 AM an e-mail came from ZDF that the rehearsal with David Hasselhoff should already take place at 09:50 AM, so that they would already pick us up at 09:10 AM. After an extensive breakfast we went to the Fernsehgarten
The weather was fine today. The last rain clouds disappeared around 08:00 AM and shouldn't come back again.
When we arrived at the show area, Lou Bega was rehearsing for one of his two gigs. I had already met Lou in 2015 at the "Duell der Jahrzehente" for RTL and he was very happy to see K.I.T.T. again - so I had to record the whole thing for a video for his Instagram account as well. (» Watch video at Instagram)
Then we waited for David Hasselhoff, who also showed up at K.I.T.T. soon. I myself kept some distance at first, but quickly had my "appearance" when David got into the car and asked for the owner. I briefly explained the most important things - e.g. that it was a manual and not an automatic drive, but he had no problem with that. I started the car for him and we agreed that K.I.T.T. would wait for him with the engine running during the show.
David also had problems with his sitting position again. With his height of 1.93 m, he always has difficulties fitting behind the wheel. Nevertheless, he (unlike almost everyone else) does not bump his knees against the switchpod. For "Knight Rider", the driver's seats had been screwed back further especially for him. A luxury most replicas can't offer him, of course.
Then it went quite fast. David started immediately on stage. Jasmin Wagner alias Blümchen shared her enthusiasm about K.I.T.T. on her Instagram account
On the main stage David was instructed once again and also determined a few details himself (e.g. that the camera should not necessarily show how he "climbed" out of the car ;)
I myself had the task of driving K.I.T.T. off the stage again.
I hurried to watch the rehearsal of David's new single "You Made The Summer Go Away" (feat. Blümchen alias Jasmin Wagner). Immediately afterwards I did a Selfie with Jasmin. Quite cool to suddenly face the stars of my own youth :)
To rehearse "Looking For Freedom" the first spectators already flocked into the studio area, so that I went back to K.I.T.T., where already many visitors took photos with the car, so that we parked it later a bit further back in the area, where not everyone was allowed to enter.
Afterwards we went into the backstage area again to have a bite to eat and drink. There we also met Schlager icon Patrick Lindner, with whom I also took a photo of course.
At 11:50 AM the live broadcast started, so that we also went to the main stage again. We followed the prelude to the show and were also to be seen from far away briefly. But what am I talking... The attentive fans certainly recognized us a the first sight... (See screenshot 🙈)
Shortly after the beginning of the show we went back to K.I.T.T., who should have his performance after about 50 minutes. About 15 minutes before we transferred him again a little bit closer to the stage, so that he was crowded by the audience again quite fast... and also the lingerie models, who should have an appearance with ZDF styling expert Astrid Rudolph later in the show, wanted a photo with him.
At 12:38 PM David Hasselhoff got out of his black shuttle bus to get into the black super car
Afterwards there were a few final instructions before I was brought to the main stage as quickly as possible so that I could drive the car off the stage after the performance.
Behind the stage I met Jasmin Wagner aka Blümchen, who was also waiting for her performance. She was also enthusiastic about K.I.T.T. and asked what kind of base vehicle it was. She also asked where I would take the car afterwards because she wanted to come back with David for photos. Well, that sounded great :)
Together we followed David's performance on the video wall. Accompanied by the "Knight Rider" title music David drove on stage.
When David drives on stage with K.I.T.T., the audience is thrilled. David welcomes the audience in German and is happy to be on stage with K.I.T.T. again. Also K.I.T.T. is happy and says that he feels alive again. Unfortunately, the sound of the voicebox was not be heard on stage, so that the director repeats the track shortly afterwards.
Andrea Kiewel even called me by name to the stage to drive K.I.T.T. out again. David thanked me with a handshake and thumb up and said goodbye to K.I.T.T. before Andrea Kiewel interviewed him and brought Blümchen on stage so that they could present their single "You Made The Summer Go Away".
Meanwhile I drove K.I.T.T. into the backstage area again.
There I did a selfie with Danyel Gérard ("Butterfly"), also several participants (e.g. the dancers of Lou Bega) wanted to take photos with K.I.T.T..
Shortly afterwards Blümchen and David Hasselhoff appeared. As Jasmin had already announced to me, they also wanted to make some photos and videos with K.I.T.T.
Mainly they recorded several videos for different streaming platforms at K.I.T.T. to promote their new single "You Made The Summer Go Away". Afterwards they posed for photos at K.I.T.T. and also some of the other guests took the opportunity to take a photo with them.
Of course Blümchen was also allowed to take a seat in K.I.T.T..
When she was sitting at the wheel, she asked me if she could drive a lap. Since the car was standing in a small "roundabout" in the backyard of the backstage area all the time, nothing spoke against it. She was visibly happy about it, did a few laps before she stopped again with little tears of joy in her eyes.
Both me and Jasmin's management recorded this event on video. She herself even shared it with her fans in her Instagram account.
Alside many guests took the opportunity to take a photo with K.I.T.T. now. I myself got some photos with Patrick Lindner and singer Kelvin Jones ("Call You Home") and also Kiki Cordalis and TV presenter Laura Karasek took photos again with the supercar.
Shortly before our departure, TV animal trainer Nicolle Müller and her Capuchin monkey Monty came by. Monty also had the chance to sit in K.I.T.T., but didn't really know what to think of the talking car ;)
The celebrities were also enthusiastic about K.I.T.T. - they also posted photos and videos of the meeting in their social media channels.
The live show was seen by 2.43 million viewers resulting in a market share of 18.8%
back