About me
Who is the owner of this replica of K.I.T.T.? I'll try to answer this question here.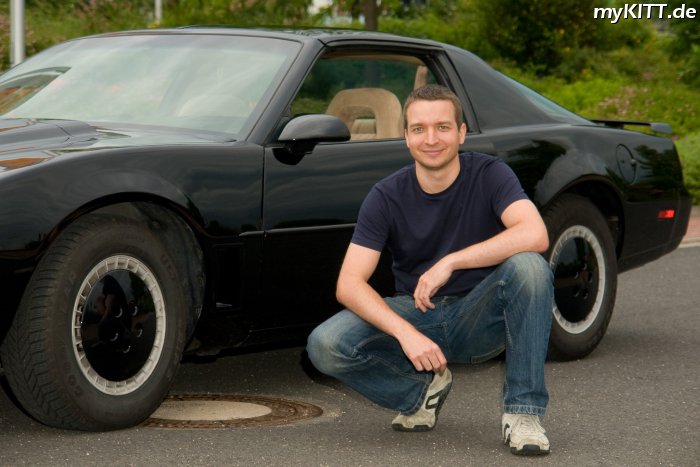 My name is Andreas Winkler. I was born in 1978 and watched "Knight Rider" for the very first time in 1990 - at the age of 12. I was fascinated by the idea of a speaking car and the black Pontiac Firebird soon became my dream car. I dreamt of building a K.I.T.T. dash into my car when I'm big - but of course, these dreams were a little childish. A miniature of the dash made of paper and a small scanner on my bike were the first steps of letting my dream come true... Additionally, I collected everything about "Knight Rider" and David Hasselhoff - I even listened to his music - yes, I'm German ;)
Over the years, I lost my interest in Hasselhoff and "Knight Rider". You're getting older and interests change. But I never forgot it completely and when the show was on TV, I often switched in and watched it.
In 2003, I realized, that you can buy most of the conversion parts via the internet. At this time, I already thought about letting my dream come true. In 2005, I started to buy the first parts, but planned not to buy the car before 2008. In August 2006, I found a partly-finished K.I.T.T.-replica for a affordable price and simply bought it. Since then, me and my friend Martin were building my replica until it was mainly finished in May 2008.
Now the car can be seen on Erfurt's streets in the summertime. It often can be found at parking lots of fast food restaurants and ice cream shops, talking to people who come by... ;)
I will attend some car meetings in the future. The car has to be shown. It's been too expensive to just have it in the garage.
My job has nothing to do with cars. I studied computer science - which sounds great, but does not really help building a K.I.T.T. replica. I'm interested in home cinema, collecting >movie memorabilia and DVD movies and shows and since 2001, I'm the webmaster of the largest German fansite about the "
Back To The Future
"-trilogy (with Michael J. Fox and Christopher Lloyd). Though, I don't want to own a DeLorean - I always prefered K.I.T.T.
Additionally, I present my personal movie merchandise collection at
Filmfreunde.net
.