News
The Donor Car
Exterior Parts
Interior Parts
Conversion Diary
Galleries
The Original
Original vs. Replica
FAQ
Press, radio & TV
Meetings & Events
K.I.T.T. and the stars
K.I.T.T. and movie cars
K.I.T.T. in Erfurt
K.I.T.T. Photo Magic
Setbacks
Special Thanks
About Me
Contact
Guestbook
Board (German)
myKITT at Facebook
myKITT at Instagram
Parts for sale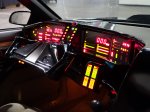 5,500 people like
myKITT.de on Facebook!

» Be part of them
and keep updated!
| | |
| --- | --- |
| Exterior: | 100% |
| Interior: | 100% |
| Other stuff: | 90% |


With David Hasselhoff & Joe Jonas in "Cup of Joe"
Click on a thumbnail to see the picture in full size:
To have the gallery function work, wait until the whole site has been loaded, including all Thumbnails...
Arrival and shooting on Sunday, 9th February 2020
Shooting on Monday, 10th February 2020
On Monday morning we drove back to the Hofbräuhaus, where the GoPros were readjusted and also various headlights and microphones were placed in the car.
Afterwards we drove to the hotel where Joe and David were staying to start the trip with K.I.T.T. from there. Also several fans had noticed this and waited for them in front of the exit.
David also welcomed me and I briefly explained some of the details of the vehicle to him. He had no problems with the gearshift (I have a manual transmission and no automatic) and so we were ready to go.
And so we went through the streets of Berlin to the East Side Gallery, where there remained still a few hundred meters of the Berlin Wall.
David just needed to follow the van with the camera, which recorded the driving scenes once again. Because it was raining all the time today, the streets were wet and our shots from Saturday didn't fit in anymore.
At the East Side Gallery they got out of the car and David explained some things to Joe about the Berlin Wall and its history.
We shot here for about half an hour. Then they got back into K.I.T.T. and drove on to Checkpoint Charlie and finally to the Brandenburg Gate.
At the Brandenburg Gate it rained heavily again and also the storm showed its wild side. But the time schedule was tight, so the shooting continued even in this weather. The show must go on ;)
But because of the bad weather there were no tourists to be seen. I used the opportunity to take a picture of Joe and David in K.I.T.T. Furthermore I got a selfie with David, because I assumed there wouldn't be a real photoshoot in this weather.
The last location was the church of Zion. Here they wanted to shoot a scene of David picking up Joe with K.I.T.T. for his sightseeing tour in Berlin. So David drove up with K.I.T.T. and Joe jumped into the car before both of them roared off with the car.
Afterwards they brought K.I.T.T. back again and took some pictures with him. And of course the obligatory crew-photo was taken together with the car. For this I took out K.I.T.T.'s roofs, so that everybody could get closer to the car. It's always impressing to see how many people are involved in such a shoot.
And so the shooting ended for us. David and Joe went to the Hasselhoff-Museum, where they only planned to shoot some interior shots. So we could start our journey back home again.
Many thanks again to Robert from glanzneuling.de for mediating and of course to the production company. It was a lot of fun :)
By the way: David Hasselhoff and Joe Jonas also shared their experiences with K.I.T.T. on Instagram and Facebook :)
Screenshots with my K.I.T.T. from the show
Quibi may be tested for free.
back