News
The Donor Car
Exterior Parts
Interior Parts
Conversion Diary
Photos
Videos
The Original
Original vs. Replica
FAQ
Press, radio & TV
Meetings & Events
K.I.T.T. and the stars
K.I.T.T. and movie cars
K.I.T.T. in Erfurt
K.I.T.T. Photo Magic
Setbacks
Special Thanks
About Me
Contact
Guestbook
Board (German)
myKITT at Facebook
myKITT at Instagram
myKITT on KR-Blu-Ray
Parts for sale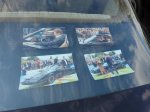 [Show gallery]

6,460 people like
myKITT.de on Facebook!

[Be part of them
and keep updated]
| | |
| --- | --- |
| Exterior: | 100% |
| Interior: | 100% |
| Other stuff: | 90% |


German Comic Con Dortmund 2019 - Spring Edition
Click on a thumbnail to see the picture in full size:
To have the gallery function work, wait until the whole site has been loaded, including all Thumbnails...
Video
Arrival and setup (12.04.2019)
After I had already participated in the German Comic Con Dortmund in 2016 with K.I.T.T., I always wanted to return to one of the Dortmund Cons. Unfortunately they always take place in December - and thus outside my season (April - October). That's why I always have to get a 5-day-license, which is a lot more effort for seasonally registered vehicles, because you have to cancel your registration first, then register for 5 days and then register a regular license again. This effort is too high and too expensive for me, so I only did it in 2016, when David Hasselhoff was a star guest at the Con. So I was very happy when a "Spring Edition" of the GCC Dortmund was announced for 2019. In April I am allowed to drive regularly, so I could participate this time.
Parallel to the GCC the "Weekend of Hell" by the same organizer took place one hall further on. Unfortunately I had to decide for one event and could not visit the guests of the WOH with my exhibitor pass and therefore was not allowed to take free photos with them. That was a bit of a pity, because besides Dolph Lundgren also my "youth crush" Shawnee Smith was announced. Most people know her from the "SAW"-series. However, I know her from the comedy series "Becker" with Ted Danson, who is unfortunately rather unknown in Germany, because the show ran here almost only in the night program (90s: Sat.1 at 0:40 AM). I loved the show and Shawnee as "Linda" was one of my favourite characters. And now she's next door, but I can't see her... But well, let's see ;)
I drove to Dortmund on 12.04.2019. On the way it snowed every now and then, but that wasn't too bad, because K.I.T.T. has winter tires all year round (exactly for such cases). In Dortmund I was greeted directly by a large advertising poster for the event. Nevertheless my first stop was the car wash before I drove to the Westfalenhallen and my adjacent hotel.
There I had arranged to meet again with Pepper and Drebin from the Project K.I.T.T. club, who wanted to support me at this Con once again. So they helped me with the preparation and were also allowed to enter the hall with an exhibitor pass, so that they didn't have to queue outside for long.
On the corresponding hall plan there should be some cosplayers next to K.I.T.T. and then a Quidditch playing field. In fact, they had placed the cosplayers further to the left, so that K.I.T.T. should be right next to the playing field where balls are thrown sharply. Not a good idea!
But a solution was quickly found: I was allowed to move with K.I.T.T. to hall 7. There was a corner next to the tables of the star guests. Of course I liked that much better, because this hall is usually the busiest. Before I drove over, I quickly put K.I.T.T. next to Ron and Harry's Magic Car from "Harry Potter". A French replica, which stood beside the time travel DeLorean of the same owner. Again something new for my Movie car gallery ;)
In hall 7 a power supply was quickly installed and I was able to set up the car there and clean it up for the show (connect the power cable, put the stop markings on the floor, change the steering wheel, polish the car again), before Pepper, Drebin and I finished the evening in the Italian restaurant where we had dinner in 2016...
Day 1 - Saturday (13.04.2019)
At 09:00 AM the first visitors were let into the hall. For the queue there was a separate hall, so that the vistors did not have to wait in the cold. I was able to enter the hall from 07:30 AM thanks to my exhibitor pass. I activated K.I.T.T. and then went to the props area in hall 4, where my buddy Tobi was responsible for the photos. Besides Ecto-1 from "Ghostbusters", whom I had already met at Comicpark 2018, there was again the "Big Bang Theory" and "Stranger Things" room as well as a backdrop to "The Walking Dead".
Also I met Ralf David again in hall 7, German actor and dubbing voice artist (e.g. "Luke Cage"), whom I had met at the GCC in Berlin 2018. At that time he had told me that he had unfortunately missed Lee Majors from "The Fall Guy" in Berlin 2017 although he was a big fan of the series as a child. Therefore he came to Dortmund for a photo and autograph, even though there was no dubbing artist area this time. I myself had already taken a photo with Majors, but now I wanted to get an autograph on my DVD box of the 1st season of "The Fall Guy".
We visited Lee Majors, who soon signed autographs. I myself still had to wait, because the "guest list", on which I was listed for a free autograph, was not yet available. But Ralf and also Pepper and Drebin could get their autograph soon. Unfortunately it was not allowed to take photos at Lee's table. But at least from some distance we were able to capture the memory. Ralf was overjoyed to have fulfilled his childhood dream. We also visited Lee's Q&A panel, where he answered questions from the audience, so Ralf also took his chance there.
The guest list was available in the early afternoon, so that I also got my autograph from Lee on the DVD box.
Besides all that my Saturday consisted mainly of photo sessions. In return for the provision of K.I.T.T. I had 8 photo sessions for today with a total of 13 star guests (in chronological order): Donal Logue ("Grounded for Life", "Gotham"), Charlie Sheen ("Two and a half Men", "Hot Shots"), Elizabeth Olsen ("Avengers: Endgame", "Godzilla"), Tom Noonan ("Last Action Hero", "Robocop 2"), Danielle Panabaker ("The Flash", "Arrow", "Mr. Brooks"), Jennifer Morrison ("House M.D.", "How I met your Mother", "Once Upon a Time"), Nadia Hilker ("The Walking Dead", "The Divergent Series: Allegiant") and a"Gotham" group shoot with Robin Lord Taylor, Drew Powell, Sean Pertwee, Donal Logue, Tonya Pinkins, Camren Bicondova and Erin Richards.
I prosponed two more photoshoots to Sunday: Jennifer Carpenter ("Dexter", "Limitless") and Kevin McNally ("Pirates of the Carribean").
In between I visited some panels. First we went to Danielle Panabaker from "The Flash". Here I experienced something I knew from London, but never heard of before at GCC: You weren't allowed to take photos or videos. But I was able ask one question: After almost all others had asked questions about "The Flash" and "Arrow", I asked her what it was like for her to shoot the end of the movie "Mr. Brooks" with Kevin Costner, which was quite surprising. If you don't know the movie: watch it ;)
When Danielle passed K.I.T.T. on her way back from the panel, I also asked her for a photo. But as she didn't want to be photographed at the panel, the answer wasn't surprising: unfortunately no. But I got a picture from the photoshoot with her.
Unfortunately I missed Charlie Sheen's panel by half because I was still at the "Gotham" group shoot. But I could watch the "Gotham" panel in full length. Since it was the last panel of the day, it didn't matter that the group was clearly overdoing it to answer all the questions in detail.
When the stars then went back to their autograph tables, I went to Drew Powell to ask him about a photo with K.I.T.T. He had mentioned during the panel that he came to acting because of "Back to the Future" among others, so in return I offered the information where the BTTF DeLorean stood ;). He laughed and promised to come back in any case to pick up the information and take some photos.
Robin Lord Taylor, who plays the penguin in "Gotham", was much less complicated. I asked him at his table for a photo with K.I.T.T., who was only 20 meters away, and he immediately jumped up, came over and took a picture. A very nice guy, who also took a lot of time for his fans and didn't hide behind his table, but even placed his chair in front of it to be closer to the fans.
This was the end of the first day at the German Comic Con. I had not taken many photos with K.I.T.T. today, because I spent most of my time at the many photo appointments and other things. But on Sunday I had more time. Then I wanted to deliver some more stuff.
I spent the evening with Tobi and his wife over a delicious schnitzel dinner in a neighboring pub. Pepper and Drebin had already made their way home. When we came out after the meal, it snowed heavily. Also during the day it had snowed every now and then. Well that's April weather... ;)
Day 2 - Sunday (14.04.2019)
Sunday morning I took the opportunity to take some photos of the exhibited props in the (still) empty halls. I posed as a "Funko Pop!" figure in an oversized packaging, took a photo with the car from "The Fall Guy", which I had already met in 2017 in Berlin - and also one with K.I.T.T., because I always forget ;)
Since I had already done almost all my photo shootings on Saturday, I wanted to spend most of my time with K.I.T.T. today, hoping to get some nice photos with cosplayers again. Because of the good location almost everybody came by here...
During the day, a young man approached me, who was on the way with a quite massive "bodyguard". Both wanted to have a photo with K.I.T.T., but came back later when he was wearing his costume. It was Pedro Lopez Martinez, who appears as Charlie Sheen's lookalike and wanted to meet his idol in person. To increase his chances, Parviz Khosrawi of German TV channel RTL West had been following his heels, who wanted to shoot a report about Pedro. Unfortunately they couldn't really meet Charlie, because he wasn't just sitting at an autograph table as a special guest, but was isolated. But he could finally ask his question during the stage panel, whereupon Charlie laughed heartily and asked whether he was his past or future self and praised Pedro for his similarity.
Shortly before closing time Pedro also came to K.I.T.T. with Parviz and of course he got the chance to have a seat. A short excerpt of it was also on RTL West and "Prominent" on VOX.
And the real stars? Also today I was able to welcome at least two of them at K.I.T.T.: On the one hand Drew Powell from "Gotham" came by to find out where the DeLorean was (see explanations from Saturday) ;)
Also, after today's "Gotham" panel, I also got Sean Pertwee, who passed K.I.T.T. on his way back. I had also asked a few others, but they all didn't want to. That's life :)
I also had two more photoshoots today: Jennifer Carpenter ("Dexter", "Limitless") and Kevin McNally ("Pirates of the Caribbean").
Also in the early afternoon I heard from a K.I.T.T. fan that he had talked to the head of Turbine Medien about the Blu-Ray release of "Knight Rider" at the "Weekend of Hell". Unfortunately I didn't have access to the WOH, but he said that the border would be open now anyway... So I went with him and it really was like that. So I wasn't only able to talk to Phil from Turbine, but also got my chanceto go to Dolph Lundgren and my "youth crush" Shawnee Smith! Both wrote autographs diligently, so I went back to the GCC for now, but at the end of the day I had a short talk with Shawnee about "Becker" and also got a selfie with her! :)
Just another great highlight for me at the end of the weekend. I had a lot of fun again the whole weekend, got to know and saw a lot of nice people and am looking forward to being there again in the future :)
back