News
The Donor Car
Exterior Parts
Interior Parts
Conversion Diary
Photos
Videos
The Original
Original vs. Replica
FAQ
Press, radio & TV
Meetings & Events
K.I.T.T. and the stars
K.I.T.T. and movie cars
K.I.T.T. in Erfurt
K.I.T.T. Photo Magic
Setbacks
Special Thanks
About Me
Contact
Guestbook
Board (German)
myKITT at Facebook
myKITT at Instagram
myKITT on KR-Blu-Ray
Parts for sale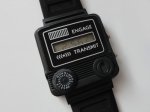 [Show gallery]

6,460 people like
myKITT.de on Facebook!

[Be part of them
and keep updated]
| | |
| --- | --- |
| Exterior: | 100% |
| Interior: | 100% |
| Other stuff: | 90% |


German Comic Con Berlin 2017
Click on a thumbnail to see the picture in full size:
To have the gallery function work, wait until the whole site has been loaded, including all Thumbnails...
Video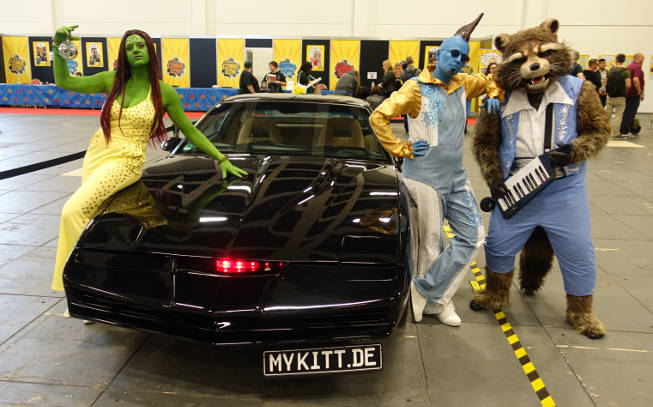 Arrival and assembly (29th September 2017)
After taking part at German Comic Con Berlin and German Comic Con Dortmund in 2016, the 2017 edition of the Berlin event was on my list as well. The main reason was meeting Tom Wilson, who played Biff, Griff and Buford Tannen in the "Back To The Future"-Trilogy (see second paragraph). Additionally Lee Majors aka "The Fall Guy" had been announced, who was another hero of my childhood.
On 29th September 2017, I drove to Berlin. This time I also wanted to take a picture of K.I.T.T. in front of the Brandenburg Gate but the area was closed because of the upcoming national holiday, so I took pictures at the Berlin Victory Column instead. Then I went to the fair halls.
My place in the fair hall was perfect: Only 15 meters away from Tom Wilson's autograph table.
On Saturday, 30th September, the fair opened at 9:00 AM for "Early bird" ticket holders and 10:00 AM for everyone else. Being an exhibitor, I was allowed to enter at 07:30 AM to take some time to clean K.I.T.T. up.
K.I.T.T. was not the only movie car. Oliver Wirtz brought his Jeep from "Jurassic Park" this time and a replica of Griff's BMW from "Back To The Future II" and Josef Hesse brought his BTTF DeLorean for the photoshoots with Tom Wilson. On Saturday, there also was another Jeep and a Jurassic Park "Trabbi" by Robert from Dresden.
I took the time to take some photos with the presented props. There also was a set for "The Walking Dead" and the Tardis from "Doctor Who".
Meeting Tom Wilson (30th September 2017)
Besides K.I.T.T., I'm also a huge fan of the "Back To The Future" trilogy and administrator of the biggest German fansite for BTTF. In July 2015, I visted the London Film & Comic Con, where I met 11 actors from "Back To The Future". Unfortunately, Tom Wilson (Biff, Griff and Buford Tannen), was not there, because he was tired of BTTF at that time and even declined signing BTTF memorabilia. That's why, his autograph was missing on my posters.
In 2017 he changed his mind and even took part at several conventions, even answering BTTF questions and signing memorabilia again. London was too far for me for one guest only, but luckily, he was announced for the GCC Berlin as well, some weeks later.
Tom also used to have a small role in the 13th episode of the 2nd season of "Knight Rider" ("A Knight in Shining Armor"), so I wanted to ask him to sign my car and maybe take one or two pictures with it. The conditions were perfect: K.I.T.T. was only 15 meters away from Wilson's autograph table, so he did not have to walk a long distance. Robert Englund was much more far away last year and even he had come with me.
On Saturday morning, I was the first in his line. Shortly after 10:00 AM, Tom arrived in a good mood, saying hello to his waiting fans. I took the opportunity to ask him about K.I.T.T., but he declined in first place, because he'd be too busy today. But alright, the weekend is long and I did have a lot of time, so I only got his autograph on my BTTF poster and the cartoon DVDs (which he had dubbed in the English version) and deferred my 3rd autograph voucher.
At 11:00 AM, the official photoshoot with Wilson and Griff's BMW took place and it became clear that he might be a "difficult" guest, who was not really in the mood for extra wishes. For example, Olli had built the BMW for this shoot only and orignally planned to ask Tom to smash his tail light with a red bat - just like he did in the movies, but Wilson declined. So chances to get him to sign K.I.T.T. decreased more and more...
But I did not surrender and asked him again on his autograph table around noon to at least sign the car, because I still had my 3rd autograph voucher. I also could have removed the trunk cover and bring it to his table, but I figured, that chances for a photo with the car were much better, when he had to come over.
At this time, I was the only one at his table, so he said that he would do it, if there were not that many people at my car, because he did not want to arrest a lot of attention. Then some fans wanted to get his autograph, so we prosponed it and I waited for him in range of vision.
About 20 minutes later, he was alone at his table again, so our views met and he nodded to me. He wanted to go to lunch, so he grabbed his stuff and came over to K..I.T.T. now, filming with his own camera and joking with some of the visitors... and finally signed my trunk cover!
After that he went to the side of the car, filming it. I opened the door and asked him to take a photo, but he declined again. But who cares. At least, I got his autograph, so I was happy :)
I also want to make clear, that he was very nice to all paying fans, shook everyone's hand and his stage panels were very funny and entertaining (more about this later).
Kim Coates, Lee Majors, Pamela Anderson, Sam Jones (30th September 2017)
In reward for bringing my K.I.T.T. to the event, I got several photo vouchers from the Comic Con. So I took the opportunity to take pictures with Kim Coates ("Sons of Anarchy"), Lee Majors ("The Fall Guy", "The Six Million Dollar Man") and Sam Jones ("Flash Gordon", "Ted", "Highwayman"). Additionally I continued my decadent "tradition" from Dortmund of taking pictures with Pamela Anderson ("Baywatch"). So I'd have 5 pics with her. The aim is to have more pics with her, than she had made Playboy covers (that would be 14). Just kidding :D
Also K.I.T.T. was crowded now.
One of the visitors was German actor Mirco Reseg ("Sechserpack", SAT.1) and also Garthe Knight tried to get the Knight 2000 under his control ;)
DeLorean Workshop (30th September 2017)
At 1:00 PM, there was an oral presentation at the workshop area of the con by Olli and Josef about "Building a time machine out of a DeLorean". The audience was big and they had to answer a lot of questions.
Tom Wilson's photoshoots, stage panel and Thomas Petruo (30th September 2017)
After I already got a picture with Griff's BMW, I had two more photoshoots with Tom Wilson. At 3:05 PM, I got a normal photo with blue background, fitting my other cast photos from London 2015 and at 3:45 PM there was a photoshoot at Josef's BTTF DeLorean. Again, Wilson acted like a "diva". He did not sign the car until Josef brought his little son to ask for it. Then even Wilson was not able to decline.
For 4:40 PM the stage panel of Tom Wilson had been announced. Just before that, I got the chance to take a picture with 6 actors (Alfie Allen, Jack Gleeson, Daniel Portman, Keisha Castle-Hughes, Finn Jones, Carice van Houten) from "Game of Thrones" at the iron throne. I have not seen the show so far, but you don't get an opportunity like this again, so I took it.
After that, I went to the panel stage, where Biff's German dubbing voice, Thomas Petruo, was already waiting. The Comic Con had planned to have him join Wilson's panel, but again he declined and presented his own comedy program, answering questions and even sang the first verse of his "Questions Song".
After that, I took the opportunity to speak to Thomas Petruo, got some autographs from him and took a photo with him. He definately was gutted about Tom Wilson, but also looking forward to the next day, when he was allowed to take photos at Josef's DeLorean. And so the first day at Comic Con ended for me.
Day 2: Thomas Petruo at the DeLorean time machine (1st October 2017)
Also on day 2, I went there at 7:30 AM and cleaned K.I.T.T. up again. Besides many finger prints from day 1 (even though I cleaned him several times before), there was also a lot of dust on the car. Black is an unrewarding color for cars.
I used the time to look around and take some photos with the movie cars. Besides the cars from "Jurassic Park" there now was a pickup from "The Fall Guy", which had not been here the day before.
The star guests took some more time this day. At 10:00 AM, when the doors were opened, none of them was there.
At 10:30 I went to the props studio, where we had an appointment with Thomas Petruo (Biff's German dubbing voice). Before he arrived, I took some photos with Griff's BMW and the DeLorean time machine.
Thomas really enjoyed the BTTF DeLorean. He's a fan of the trilogy himself and even has models of the car at home. So it also was a pleasure for him to see the car in full size and even take a seat.
We talked to him for about one hour and he even recorded several videos and Biff audios for us. In reward, we took some videos for him and Josef even gifted him with Biff's crutch, which made him really happy. The Comic Con organized a photo with Tom for Thomas, but in the end he declined, because they would have to pay for him.
After that, the second stage panel with Tom Wilson took place. Again, he made a lot of jokes and answered some questions by the audience.
Walton Goggins, Pamela Anderson, David Morrissey, Charles Rettinghaus (1st October 2017)
Also on day 2 I took several photos with the star guests: Walton Goggins ("The Hateful 8") and David Morrissey (the Governor from "The Walking Dead"). Additionally, I took my 5th photo with Pamela Anderson. You never can have too many photos with her ;)
Also, there was an interesting panel with Charles Rettinghaus, the German dubbing voice of Jean-Claude Van Damme, Robert Downey jr. (except "Iron Man"). Charles also spoke one sentence for George McFly at the end of "Back To The Future III". So I got his autograph and also took a photo with him.
At the end of the Con, there was a panel planned with Pamela Anderson. I missed her panel on Saturday, so I joined the audience early at the panel of Connor Trinneer and Nicole DeBoer ("Star Trek") to get a good seat. Unfortunately, Pamela cancelled her panel because of illness. Too bad.
I spent the last hour at K.I.T.T. - Because some of the star guest did not have too much to do anymore, I asked Finn Jones ("Iron Fist", "Game of Thrones") and Jack Gleeson ("Game of Thrones"), if they would like to take a seat in K.I.T.T. - but both declined. So I did not ask the same question to Sacha Dhawan ("Iron Fist"). Funnily enough, 20 minutes later he stood next to K.I.T.T. and was very happy to be able to take a seat inside the car. His sister is a big fan of the show, so I had to take some photos with his mobile for him.
Speaking of photos and "Superstars". Also "Alfi Hartkor", an untalented German contestant from "Deutschland sucht den Superstar" (German version of "American Idol"), wanted to take some photos with K.I.T.T. - at least this wish became reality for him ;)
The Fall Guy (1st October 2017)
So the German Comic Con 2017 in Berlin ended. I talked to many people about K.I.T.T. during the weekend. One of them was a worker at the fair, who also used to own a Pontiac Firebird some years ago. When I disassembled my booth, he came back with the owner of the pickup replica from "The Fall Guy", so we took the opportunity to take some photos with both cars at the fair area. What a great ending of a great weekend!
back