News
The Donor Car
Exterior Parts
Interior Parts
Conversion Diary
Photos
Videos
The Original
Original vs. Replica
FAQ
Press, radio & TV
Meetings & Events
K.I.T.T. and the stars
K.I.T.T. and movie cars
K.I.T.T. in Erfurt
K.I.T.T. Photo Magic
Setbacks
Special Thanks
About Me
Contact
Guestbook
Board (German)
myKITT at Facebook
myKITT at Instagram
myKITT on KR-Blu-Ray
Parts for sale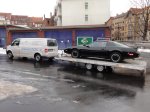 [Show gallery]

6,630 people like
myKITT.de on Facebook!

[Be part of them
and keep updated]
| | |
| --- | --- |
| Exterior: | 100% |
| Interior: | 100% |
| Other stuff: | 90% |


German Comic Con Dortmund 2019
Click on a thumbnail to see the picture in full size:
To have the gallery function work, wait until the whole site has been loaded, including all Thumbnails...
Video
Arrival and setup (06.12.2019)
After I had already taken part in the Spring Edition of the German Comic Con Dortmund this year in April with K.I.T.T., I decided to take part in the December edition as well due to the huge number of stars for the 5th anniversary of the event (in the end they announced more than 90 guests - normally there are only about 20-30). Unfortunately the event always take place outside my season (April - October). Therefore I had to get a 5-day license for this event, which was more than worth it.
So I drove to Dortmund on 6th December 2019. This time I had my life-size figure of E.T., the extra terrestrial with me, because the original actors of Elliott and his brother Michael - Henry Thomas and Robert MacNaughton - should be guests as well. So it was a good idea to take a photo with them and to have the figure signed by them as well. Originally, I had planned to have him sitting on the back seat, but with his 90 cm height he did not fit in. So he took place on the passenger seat.
In Dortmund I met again with Pepper and Drebin from the Project K.I.T.T. e.V., who supported me at this convention. They helped me with the setup and were allowed to enter the halls with their exhibitor pass, so they didn't have to queue outside for a long time. I also had an appointment with Tobi (accessburn) and Rebecca, who I know from our Back To The Future community from my website www.ZIDZ.com for many years.
Like in spring, K.I.T.T. was set up again in hall 7, where the prop-shoots and some other movie cars were located this time. To my left, there was the time travel DeLorean of Josef Hesse in a nice BTTF deco and on my right side a small Jurassic Park vehicle park with 2 jeeps and various decoration items. Additionally there was a second DeLorean by Chris Wolff, where the photoshoots with Christopher Lloyd should take place. This DeLorean was located a few meters further in the prop shoot area.
This time the actors were located 2 halls away in hall 3 and the 8 photo shoot boxes were in hall 4, so that the chance to get one or the other actor to K.I.T.T. were quite low. With Mitch Pileggi (Thomas J. Watts from "Knight Rider 2000") and Michael Cudlitz (main villain from episode 13 of "Knight Rider 2008") there were even two actors present, who were at least slightly involved with "Knight Rider". But since it wasn't the original series, a photo with both of them and an autograph of Pileggi was enough for me.
Furthermore Christopher Lloyd (Doc Brown) and Billy Zane (Match from Biff's Gang) from "Back To The Future" were present, so I wanted to get a photo and an autograph of Zane. I already have enough photos and autographs of Lloyd, so that this time I just wanted to watch his panels.
Day 1 - Saturday (07.12.2019)
Due to the packed programme, it was decided to extend the opening hours, so that this time the first visitors were already allowed into the halls at 08:00. I myself was allowed to enter at 06:30 AM thanks to my exhibitor pass. I connected K.I.T.T. to the external power supply and cleaned him up a little bit. I also had a look around the halls and took some pictures with K.I.T.T. and my E.T. before I stored the figure away.
My Saturday consisted mainly of photoshoots. In return for my seasonally increased effort and due to the fact that I had taken only 7 star photos in September in Berlin, I had 25 star photoshoots and 7 autographs/selfies on my list for this time - new record for a single con. But next time it will be less again ;)
My highlight were definitely the guys from E.T. - since I wanted to have a picture with Henry Thomas (Elliott) and Robert MacNaughton (Michael) together with my E.T., I decided against the photoshoot in the box and wanted to do a joint selfie with them at their autograph table instead, when I get the figure signed. Furthermore, a prop-shoot with a similar figure sitting in the front box of Elliott's BMX bike in front of a beautiful full moon scenery was offered, which I didn't want to miss as well.
The shooting took place in the prop shoot area, which was only a few running meters away from K.I.T.T., so I asked Henry and Robert in a short break if they would be willing to come to K.I.T.T. afterwards to take a picture with the car and my E.T.-figure, because their way back to the autograph table was more or less passing it anyway. Both were very relaxed and accepted directly :)
Furthermore, Robert did not miss the opportunity to take a seat in Chris' DeLorean, which was standing right next to the E.T.-Prop. Afterwards both Henry and Robert came to K.I.T.T. for a short time and I got my desired photos :)
Apart from that I also met several BTTF fans again. Sören (WesternUnion) and Mike (sonofstrickland) from our ZidZ.COMmunity had their own booth this time to present their book "Schokoladentaler". I also had an appointment with Sonja and Ryan (BlastFromThePast), with whom I had visited the "Back To The Future"-locations in the USA 9 years ago. Together we wanted to watch Christopher Lloyd's panel, but I joined them a little later because I wanted to do as many photoshoots as possible today. So I didn't really see anything of the panel. But on Sunday there was another one.
Indeed, I managed to get 21 photoshoots today. Thanks to employee vouchers I didn't have to wait in line anywhere for a long time. Once it started, I was usually quickly in the cabin and got my photo. The photoshoots are relatively fast and uncomplicated. In fact, you only meet the star for a few seconds. Those who want to talk longer with a guest have to go to the autograph tables and hope that there is not too much going on. Or you can ask your question at a live panel in front of a large audience. During the photoshoots there is no time for that because of the tight schedule. On the other hand, it's fast, which is quite good if you have 3 photo sessions in different cabins within 10 minutes.
Here are my photos of today in chronological order: Holly Marie Combs ("Charmed"), Shannon Elizabeth ("American Pie", "Scary Movie"), Thomas Ian Nicholas ("American Pie"), Meat Loaf ("I'd do anything for Love", "Fight Club", "Wayne's World"), Nick Carter ("Backstreet Boys"), Brian Krause ("Charmed", "Return to the Blue Lagoon"), Brenda Strong ("Desperate Housewives", "Starship Troopers"), David Harbour ("Stranger Things", "Hellboy" series), Judge Reinhold ("Gremlins", "Beverly Hills Cop", "Stripes"), Dominic Purcell ("Prison Break", "The Flash"), Kim Coates ("Sons of Anarchy", "Bad Boys"), Steven Berkoff ("Beverly Hills Cop II", "Rambo II"), Henry Thomas & Robert MacNaughton (E.T. Duo Prop Shoot - see above), Michael Cudlitz ("Knight Rider 2008", "The Walking Dead"), Edward James Olmos ("Miami Vice", "Battlestar Galactica"), Mary McDonnell ("Independence Day", "Battlestar Galactica"), Billy Zane ("Back To The Future", "Titanic", "The Phantom" - see below), David Warner ("Titanic", "Turtles II", "Star Trek"), Jake Busey ("Stranger Things", "The Frighteners"), Mitch Pileggi ("Knight Rider 2000", "The X-Files" - see Sunday), Giancarlo Esposito ("Breaking Bad", "Better call Saul") and Alicia Silverstone ("Clueless", "Batman & Robin", various Aerosmith music videos)
Being a "Knight Rider" fan, Mitch Pileggi and Michael Cudlitz were of course among my highlights. I also got an autograph from Pileggi on Sunday (see below), for Cudlitz a photo was enough for me. He played the role of the leader of the bank robbers in the 13th episode of "Knight Rider 2008": "Exit Light, Enter Knight".
At the shooting with Kim Coates I wondered, why I already knew his boxing pose. Obviously, I had totally forgotten, that I already took a picture with him in Berlin 2017. Maybe I should make a list soon to keep an overview ;)



Besides that I was here mainly because of Billy Zane from "Back To The Future". Since I collect the autographs of the BTTF actors on my three movie posters, I also needed his autograph of course, so I originally planned to come to Dortmund even without my K.I.T.T., if necessary, who normally is not allowed to drive in December. And since the tickets for photos and autographs are a lot cheaper after announcement than later, I bought a photo and autograph ticket for Billy immediately, so that I could get the cheaper price. So in the end he was the only one I paid for myself. I originally didn't expect that there would be so many others.
I asked him to sign my poster for "Back To The Future II", which otherwise mainly contains the returning main characters. But the other two posters were unfortunately already too full. And since he also played in two parts, it's OK anyway.
What else was there? Well, I don't really know, because I was so busy with my photoshoots today that I hardly saw anything else. I also didn't really have time for K.I.T.T., so I didn't take any photos with cosplayers or similar. Only Alina and Kim, whom I know from the last 3 years in Berlin (e.g. as Edward Scissorhands and Grinch) I took pictures in their great Toy Story costumes. I also met Markus and Kathy from the ZIDZ.COMmunity at the booth of "Die Geisterjäger".
In the evening I talked for a long time with Steven Wickenden from England, who owns the DeLorean time machine from the LFCC 2015 and who provided his E.T. bike for the prop shoot. A photo on the bike was a must, even though I had already taken one with Henry Thomas and Robert MacNaughton in the afternoon.
In the evening there was a party for the 5th anniversary of the German Comic Con, where 90s star Whigfield should also have an appearance. Unfortunately I was too tired to go there. But I could still see the end of her performance through the window front when I went to dinner ;)
Day 2 - Sunday (8th December 2019)
On Sunday morning I used the opportunity to take some photos with the exhibited props in the (still) empty halls. This time there was among other things a door from "Monsters Inc.", the Ahoy and the living room from "Stranger Things" and also the scenery replica of "Big Bang Theory" was there again. Furthermore a trolley from "Harry Potter" and Doc's tombstone from "Back To The Future III" were exhibited. The clock face from BTTF was also there, but it was not built up, but hid behind the scenes. The throne from "Game of Thrones" was present two times: once in the prop shoot area and once at the booth of Game of Thrones in hall 3. There was also the Optimus Prime truck again, with which I had already taken some photos in Berlin 2018, even if it was not the same vehicle. Also several life-size funko-pop-packs were available again, so that you could take pictures of yourself as a "figure" in it.
Next to K.I.T.T. there were two jeeps from "Jurassic Park" in a well created scenery. And also Josef's DeLorean had a very nice scenery with Clocktower banner, Hill-Valley sign, Hollywood streetlamps and lifesize figures of the two main characters. Probably I will have to upgrade sometime ;)
Today I wanted to get my autographs. Normally I don't collect signatures, but because I had my E.T. with me, he should be signed by Henry Thomas (Elliott) and Robert MacNaughton (Michael). And because I didn't want E.T. to look like a tattooed dockworker afterwards, I let them sign under E.T.'s foot. That way you can't see the autograph, but you can show it anytime you want to.
Robert was already at his table around 9:30. But Henry didn't arrive until about 10:20. Close call, since they had their panel at 10:50. But since I had nothing else to do, I waited and was the first one to get an autograph. While I waited, many passers-by took the opportunity to take a picture with my E.T. :)
As I was not sure at first, if I really wanted to have autographs directly on the figure (at first I thought about getting his back signed, because you can't see it from the front either), I also printed a photo of the three main actors (Henry, Drew Barrymore and Robert). So I used this photo for autographs for my buddy Ormau. He is a huge E.T. fan and was the one who made me buy the figure he also owns.
Since I got both actors at the same time, I could also film a nice video with greetings to Ormau... and of course there was also the opportunity for a group photo with both actors, my E.T. and me.
I got my last autograph from Mitch Pileggi. He is best known as Walter Skinner from "The X-Files". But "Knight Rider" fans also know him as the main villain from Knight Rider 2000, Thomas J. Watts. This is the guy who killed Devon Miles, by the way ;)
Originally I had planned to have Mitch sign my tailgate cover (I can remove it if necessary), but unfortunately I don't have enough space there and of course "Knight Rider 2000" is not really "Knight Rider". As a replacement, I took some screenshots of the movie from the show "The worst movies of all times" with Oliver Kalkofe and Peter Rütten on Tele5 and created a small collage for signing. I gave it to Mitch with the remark that I'm probably the only one this weekend who comes along with a photo from this movie and he immediately started laughing out loud how he looked like then. Then he turned to his table neighbor to show him the picture.
He told us that there was also a fight scene with David Hasselhoff in the movie (I had a screenshot on my mobile phone, because I originally wanted to have a picture with both of them on it) and that he accidentally hit The Hoff right in the face during the shooting. He also thought that "The worst movies ever" wasn't that inappropriate after I explained where I got my pictures from ;)
Mitch is a very nice guy, by the way. Of course I would have liked to take him with me to K.I.T.T. to take a picture, but since the car was located two complete halls away, it was much too far away. Maybe next time.
Today I had only 4 photoshoots and therefore I had a little more time to look around the halls. The stage panels I still skipped... but today I discovered the life-size Transformers figures, which were exhibited at the exit of the panel stage. I wonder if I could get K.I.T.T. there in the evening to take a picture together? Let's see...
Apart from that I spent a little more time at K.I.T.T. today and also met Jan from the Project-K.I.T.T. e.V., whom I usually see at the Hanover meetings in summer.
And also Alina and Kim dropped by again. Today in a great "Corpse Bride" cosplay.
I also wanted to join the photo shoot of Christopher Lloyd at Chris Wolff's DeLorean. I didn't have a photo with him this time (I already have a photo with him from LFCC 2015 and GCC 2016 with the DeLorean), but Josef had managed that the Doc would come to his DeLorean afterwards. And since he was standing right next to K.I.T.T., I didn't want to miss that.
After the photoshoot Lloyd indeed went there. Surrounded by a huge crowd. I filmed the whole thing for Josef, of course. Luckily I hadn't really hoped for a photo with K.I.T.T., because that wasn't possible with the crowd of people. Even if it is a pity, because he surely won't get that close again ;)
Josef talked to Chris for about 1 minute and told him that his replica is a hobby and that they collect donations for a charity to support children's projects. Lloyd was impressed and he thanked Josef for his commitment.
Apart from that I had - as already mentioned - 4 photoshoots today, which were spread over the whole day: Ian Somerhalder ("The Vampire Diaries", "Lost"), Mark Boone jr. ("Sons of Anarchy", "Batman Begins"), Daphne Reid & Karyn Parsons ("Fresh Prince of Bel Air") and Mark Dacascos ("John Wick 3").
At 3:10 PM there was a panel that I didn't want to miss: Christopher Lloyd alias Doc Brown from "Back To The Future" answered his fans' questions. Here I also met Kathy and Markus again, who happened to sit right next to me.
After the panel I went back to the Transformers figures and realized that they weren't static statues, but actually costumes, which only really came to life with their actors. The three of them were ready for photos with the audience, so that I also took my chance. But hey... if they can walk, I don't need to drive K.I.T.T. here for a photo... they could come with me. So I asked them about it and soon the big Ford Mustang Transformer booted off. He made a short stop at Chris' DeLorean to let Tobi take a picture with it and then he went on to pose with K.I.T.T. and Josef's DeLorean. Shortly after that also the female Autobot appeared at our place...
Many thanks to AJDesigns.de! The costumes are really awesome!
And so the German Comic Con came to its end again. Soon K.I.T.T. was put back into driving condition and the DeLoreans were packed up again. In the case of Josef Hesse even in proper style in a suitably decorated van with the inscription "Dr. J. Hesse - 24 hr scientific Services" :)
By the way, the visitors, who took a seat in Josefs DeLorean during the two days, donated a total of over 2,400 Euros, which Josef forwarded to charitable institutions. Chapeau!
back