News
The Donor Car
Exterior Parts
Interior Parts
Conversion Diary
Photos
Videos
The Original
Original vs. Replica
FAQ
Press, radio & TV
Meetings & Events
K.I.T.T. and the stars
K.I.T.T. and movie cars
K.I.T.T. in Erfurt
K.I.T.T. Photo Magic
Setbacks
Special Thanks
About Me
Contact
Guestbook
Board (German)
myKITT at Facebook
myKITT at Instagram
myKITT on KR-Blu-Ray
Parts for sale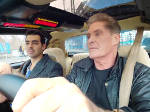 [Show gallery]

6,460 people like
myKITT.de on Facebook!

[Be part of them
and keep updated]
| | |
| --- | --- |
| Exterior: | 100% |
| Interior: | 100% |
| Other stuff: | 90% |


German Comic Con Berlin 2019
Click on a thumbnail to see the picture in full size:
To have the gallery function work, wait until the whole site has been loaded, including all Thumbnails...
Video
Anreise und Aufbau (27.09.2019)
After I had already participated in 5 German Comic Cons in Dortmund and Berlin since 2016 with K.I.T.T., the fourth edition of the Berlin event was also on my schedule for 2019. This time there was no star guest announced for whom I absolutely had to go, but the events are always a lot of fun and with Richard Burgi ("The Sentinel", "Desperate Housewives") there was at least one interesting guest for me who I would like to have a photo with. What I didn't remember at that time: Richard also had an important role in the K.A.R.R. episode of "Knight Rider 2008"! Furthermore I had selected some other photoshoots with the more famous guests of the Con, so that I had 7 dates in total.
On 27th September 2019 I drove to Berlin. Arrived there, I stood in a traffic jam for one hour, because unfortunately the Berlin Marathon took place at the same time, so that there were several road closures. Besides, it was raining and I had to check into my hotel by 06:00 PM at the latest, so I decided to drive to the hotel first and wash the car afterwards, because this time I also had time until 10:00 PM to set up at the STATION Berlin.
On the way from the hotel to the car wash I discovered the Berlin TV Tower, so I made a short stop to take some pictures. Fortunately the rain had stopped in the meantime.
In the STATION I was able to drive in immediately (last year K.I.T.T. had to wait several more hours), so this time I also had time for the complete setup. I disconnected the battery and connected the transformer, changed the steering wheel and marked the ground around K.I.T.T., so that the visitors don't get TOO close to him.
I got the same parking space as last year again: K.I.T.T. stood directly at the passage between the two main halls, so that almost every visitor was forced to pass him - it couldn't get any better.
Day 1 - Saturday (28th September 2019)
On Saturday morning I polished the car again or removed the dust. Again and again it was blatant how quickly a thick layer of dust formed on the car in the large halls. This should even increase significantly after the admission of the visitors.
At 09:00 AM the first visitors were let into the halls. I watched the dubbing voice artist panel "Switch The Voice", where the famous voices slipped into a different role. This year Ingo Albrecht (Dwayne "The Rock" Johnson) and Ralf David ("Luke Cage") were guests again. New to the band were Fabian Hollowitz (Clark Duke, "McLovin'") and Christian Zeiger (Tom Holland).
As I didn't need any autographs this year and my photo shoots were supposed to take place on Sunday, I spent most of my time at K.I.T.T., where of course a lot of cosplayers came by to pose for photos.
A lot of cosplayers and camera teams walked through the halls. For the German children's TV channel KiKa, presenter Ben was making Interviews. In Germany, he is also as a singer. His single "Engel" (featuring Gim) was number 2 in the German charts in 2002 and reached gold status. In Austria he was even at number 1. Ben didn't miss the chance to take a seat in K.I.T.T. as well.
I also tried my luck again with the star guests of the Con. After all, most of them passed by after their panel anyway. Mary Chieffo (Klingon Chancellor L'Rell in "Star Trek Discovery") and Manu Bennett ("Arrow", "The Hobbit") followed me instantly. Richard Burgi also wanted to come along, but was prevented from doing so by his companion. Richard said goodbye to me very friendly in the evening, so that I didn't give up hope to get another chance on Sunday. Some other stars, on the other hand, didn't want to take a picture at all, even though they were almost next to the car already. But of course I can't force anyone ;)
In the evening I spent some time at the second dubbing panel. Also the two "new" participants Fabian Hollowitz (German voice of Clark Duke and "McLovin'") and Christian Zeiger (German voice of Tom Holland) liked to be photographed with K.I.T.T.. And then the first day ended again.
Day 2 - Sunday (29th September 2019)
On Sunday morning I took the opportunity to take some photos with the exhibited props in the (still) empty halls. I took a seat in the "Stranger Things"- and the "Big Bang Theory"-room, took a picture with the throne from "Game of Thrones" as well as Harry Potter's Magic Car, the Transformers truck and again the X-Wing fighter T-70 from ZMontagen.
At 09:00 AM the con opened again and also this time numerous cosplayers came to K.I.T.T.
During the lunch break I strolled by the prop rooms, when several star guests were taking a group picture in the "Stranger Things" room (Barbara Nedeljáková, Richard Burgi, Jaiden Kaine and Costas Mandylor).
As I already mentioned, Richard Burgi ("The Sentinel", "Desperate Housewives") was not allowed by his companion to go to K.I.T.T. on Saturday to take a picture. But he said goodbye to me very friendly on Saturday evening and recognized me directly at the photoshoot and greeted me from far away when he came back from his lunch break. Therefore I went to him, in order to ask whether we could take a picture with K.I.T.T. after his panel in the afternoon, since he passes there anyway. He agreed directly and later actually came BEFORE his panel to the car to pose for photos and even wanted to take a seat behind the wheel. A very nice guy, always friendly and in a good mood. That's how all star guests of the Cons should be like.
What I didn't remember during the Con: Richard was starring in the 12th episode "Knight to King's Pawn" of "Knight Rider 2008" in a supporting role. If I had remembered, I would have certainly asked him about it. Maybe another time :)
What else? I also had my 7 photoshoots today: Bai Ling ("Crank 2", "Wild Wild West", "The Crow"), Richard Burgi ("The Sentinel", "Desperate Housewives", "Knight Rider 2008"), Manu Bennett ("Arrow", "The Hobbit"), Jason Isaacs ("Harry Potter", "Star Trek Discovery"), Scott Patterson ("Gilmore Girls", "SAW" 4-6), Tommy Flanagan ("Sons of Anarchy", "Braveheart", "Gladiator", "Sin City"), Steven Ogg ("The Walking Dead", "Grand Theft Auto V")
A little less than usual, but I will have a few more in Dortmund in December. Over 70 film and series stars have already been announced here. This will be a party!
back